Second opinion and Revision Lumbar Surgery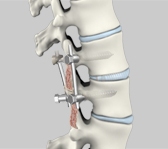 Patients presenting with recurrent symptoms after having had previous back surgery pose a major challenge. Further revision surgery is more difficult as the anatomical planes are absent following previous surgery with scarred tissue planes. This makes the second surgery more difficult, with increased bleeding, risk of nerve injury, leakage of spinal fluid as well as increased risk of infection.
I believe that in this group of patients a strong case can be made to offer them revision surgery approaching the spine from the side rather than going from the back again.  The advantage is that going from the side of the spine will provide a virgin plane to indirectly decompress the nerves, minimizing the risk of bleeding, infection, nerve damage and the usual complications associated with posterior revision surgery. This minimally invasive XLIF (lateral) approach shortens the hospital stay and allows faster recovery for this otherwise difficult surgical patients. I genuinely believe that this approach is unique in these cases. Obvioulsy like all spinal cases, patient selection remains the key.