Pilot returns to skies after surgery on spine – Yorkshire Evening Post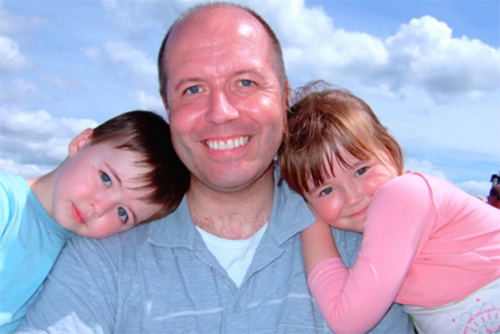 Jonathan Parker with his two children, John and Molly
A pilot who feared his career was over after a serious spinal injury is now back in the skies thanks to life-changing surgery.
Commercial airline pilot Jonathan Parker, a former RAF fighter pilot, suffered three slipped discs in his neck after an accident in May 2012.
He feared he would lose his job as his injuries left him in agony and unable to use his left arm.
But surgeons at Leeds Spire Hospital spent two hours operating on his spine in June last year and now, after intensive physiotherapy, he has passed the flying fitness tests and returned to his job. Father-of-two Jonathan, of Allerton Bywater, near Castleford, said: "I was devastated to think that my career might be over. As an airline pilot and a father, it was crucial that I find immediate treatment so I could return to a normal life and resume my career."
Consultant neurosurgeon Deb Pal said: "The prolapsed discs were compressing the nerves as well as his spinal cord. Left alone, it would likely have continued to deteriorate. "Jonathan's lifestyle was hugely affected and most importantly he had stopped flying in his capacity as a pilot."
Surgery involved reaching the slipped discs from the front of his neck. They were removed and a cage packed with bone graft was placed in the empty disc space. Mr Pal said he was delighted with the results: "I chose this particular procedure as the pressure on the nerves and spinal cord was in the front and therefore the approach needed to be from the front. I was confident that his arm pain would improve immediately following surgery."
Jonathan said: "The combination of great surgery and physiotherapy meant I was back at work after just two months. At the age of 49 I could not have healed like that without the intervention of these two treatments."