Mr. Deb Pal
Consultant Neurosurgeon
MBBS FRCS (Edin) FRCS (SN)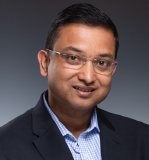 My Approach to Spinal Surgery
In the UK fully trained Spinal Surgeons may either be of Orthopaedic or Neurosurgical background with comprehensive training in all aspects of spinal surgery. A spinal fellowship programme at the end of one's specialist registrar training is mandatory. With a growing elderly population, more and more patients with spinal conditions are being referred and it is important that they and others select the surgeon who is fully trained in all aspects of spinal surgery. For me spinal surgery became of interest during my neurosurgical training as well as my spine fellowship at Nottingham when I trained under some excellent surgeons to gather this interest. As a consultant spinal surgeon in Leeds since 2009, I have established my practice with special interest in certain areas of spinal surgery including minimally invasive spinal surgery, lateral access surgery, degenerative spine and spinal tumours.
Spinal surgery is something the patient chooses to have and it is not essential unlike tumour surgery. Pain is a very disabling symptom and different people react to it differently. What is important is to be aware is that the vast majority of patients improve with conservative measures and that surgery is not necessary. Surgery is always the last resort and I would always try to screen the patients who will not require surgery. As a surgeon, patient selection is vital for the best outcome.
When conservative measures have failed, surgery is offered to those patients whose clinical symptoms and radiological findings correlate. As a result of advancements in spinal surgery over the last few decades, we have the benefit of some advanced minimally invasive techniques that includes lateral access surgery (which is one of my key interest), minimally invasive spinal fusion and certain procedures in the neck. Options need to be discussed with the patients regarding the pros and cons of various procedures and it is important that they understand in detail and ask questions relating to all aspects of their care.
I see a lot of patients in their 80's or even 90's who are symptomatic with their spinal conditions and I firmly believe that provided one is reasonably fit, age should not be the only criteria for offering life changing procedures to patients. I have operated on several patients in this age group with life changing outcomes. However, one needs to screen the patients appropriately and choose the simplest and shortest procedures.
Safety remains the primary concern in my practice. I am proud to say that my practice is comprehensive and evidence based. I work with some excellent anaesthetists and physiotherapists and my patients are cared for by specially trained spinal nurses.
Specialties
Neurosurgery, Back pain, Degenerative spine, Neck pain, Spinal surgery
Special clinical interests
Sciatica, Disc prolapse, Complex spinal surgery, Degenerative scoliosis, Instrumented fusions, Minimally invasive spinal surgery, XLIF, Vertebroplasty, Kyphoplasty, Cervical and lumbar degenerative disorders, Treatments for metastatic spinal disease, Intradural tumours, Spinal trauma and infections
Research interests
Degenerative scoliosis and Cervical degenerative disorders
Current NHS and /or university posts
Consultant Spinal Neurosurgeon, Leeds Teaching Hospitals Trust
Year of first medical qualification
1993
Current membership(s) of professional, national and regional bodies
General Medical Council
Royal College of Surgeons (Edinburgh)
Medical Defence Union
AO Spine (Europe)
British Association of Spinal Surgeons
Background Information
Professional profile
Mr Deb Pal is a neurosurgeon at Leeds and all of his elective workload is related to the spine.
He completed his neurosurgical training in Leeds. Following this, he undertook a nationally recognised one-year spine fellowship from Nottingham which is one of the leading spinal centres in this country. This provided him with complete training in all aspects of spinal surgery.
Training under orthopaedic spinal surgeons during his fellowship gave him a unique opportunity to complement his understanding of spinal pathologies and management of various spinal conditions.
He has a special interest in cervical and lumbar degenerative disease and is competent in procedures ranging from minimally invasive to complex spinal instrumentation. He believes in evidence based management and uses outcome measures for all his patients which is a very important part of his clinical practice.
Personal profile
In his spare time Mr Deb Pal enjoys spending time with his family and travelling to new places. He loves sports and enjoys watching cricket and football.
Mr. Deb Pal
The Spine Clinic at Leeds
Jackson Ave
Leeds, West Yorkshire LS8 1NT
Spire Leeds Hospital
Roundhay
Leeds, Yorkshire LS8 1NT
Nuffield Leeds
2 Leighton St
Leeds, LS1 3EB
Leeds General Infirmary
Department of Neurosurgery
Great George Street
Leeds, LS1 3EX