Stuart Walsworth – Testimonial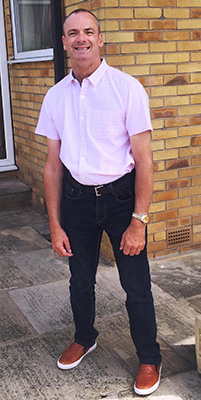 My name is Stuart Walsworth and I am 50 years old. I was born with Cerebral Palsy and had an active life enjoying driving, working and winter sports until March 2016. Then my walking started to deteriorate rapidly and by May 2016 I was virtually unable to walk. By June of 2016 I was permanently in a wheelchair, unable to walk at all due to the deterioration in my spine which had become so severe and I was in a great deal of pain.
Fortunately for me, my GP had referred me to Leeds General Infirmary and I was very fortunate to have Mr Pal allocated as the Surgeon I would be seeing. At my consultation with Mr Pal I had no idea if surgery would be offered due to the nature of the rapid decline in my walking. I need not have worried as Mr Pal explained all the options to me and it was also explained that to do nothing could leave me permanently disabled and in a wheelchair.
Mr Pal suggested an L2/3 XLIF plus minimally invasive posterior fixation of the spine as opposed to the open spinal procedure. The operation was carried out on 30th November 2016 at LGI and after the operation my pain was gone. I had a prolonged stay in hospital and had physiotherapy with the Neurology Physiotherapists on the ward. When I was well enough to leave I was using a walking frame and continuing physiotherapy and now I can walk unaided and for the first time in years can stand tall. My experience with Mr Pal and his team was amazing. I have the utmost respect for Mr Pal and I will be forever grateful to him for all he has done for me.