Dorothy Carter – Testimonial

Inspiring 90-year Old Proves Age And Global Pandemic Are No Barrier For Transformative Spinal Surgery Success
Anyone worried about going into hospital during this Covid-19 pandemic should take comfort from 91-year Dorothy Carter.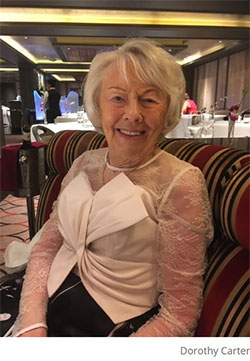 The fiercely independent 91-year old, is a keen dancer, still travelling on cruise holidays and goes to town every week.
This suddenly came to a stop last year, after she developed severe back and leg pain, but after recent complex transformative spinal surgery, is now back living in her apartment, looking forward to all those things she put on hold, including three cruises and resuming dancing.
Just after Christmas (2019), she developed back pain for which her doctor prescribed painkillers but nothing improved. "I couldn't walk, was doubled over with pain and had to go and live with my daughter for four months," 91-year old Dorothy explained.
"Following my visit to see Mr Deb PaI, consultant Neurosurgeon at Nuffield Health Leeds Hospital, one of the very few private centres outside of London that carries out the complex spinal procedures I needed, he suggested an operation straight away after checking on my health with my doctor.
"My family were split over whether I should have the operation at my age, but the decision was mine to make. I felt confident because Mr Pal gave me all the assurances and information, I needed to make a decision."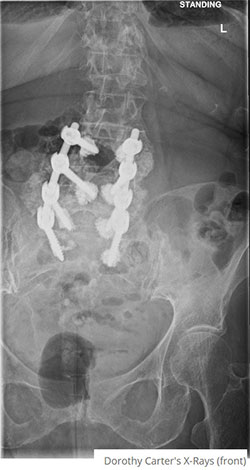 Dorothy's confidence in making the decision was made easier in the knowledge that the Nuffield Health Leeds Hospital's Centre for Spinal and Neurosurgery specialises in complex surgery. This accompanied with their on-site Critical Care Unit with one-to-one nursing and state-of-the-art spinal and neurosurgical equipment, Dorothy was reassured she was in safe hands.
"I did have some slight concerns about my age and Covid -19 but after Mr Pal explained everything so clearly, I knew it was the right decision to proceed," Dorothy said.
"As one of the few hospitals in Europe to have revolutionary equipment like 3D fluoroscopy navigated system for spinal surgery, Nuffield Health Leeds Hospital has also invested £2.6m in CT and MRI scanners, making us the leading centre for scanning services in Leeds and wider Yorkshire," said Mr Pal.
Following surgery Dorothy gradually got back to how her life was before the surgery and according to her daughter "it will not be long before she is dancing again!"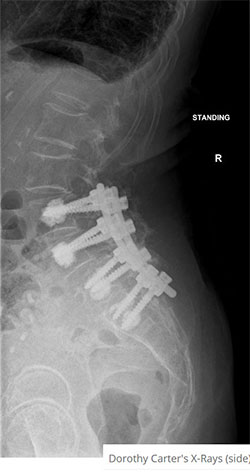 Friends and family have been inspired by her courage and amazed at how quickly the surgery transformed Dorothy's quality of life back to how it was before.
"I am back in my apartment now, living independently and even doing my cleaning as my cleaner is not allowed to visit because of the Covid-19 restrictions," Dorothy said.
Dorothy's consultant Mr Deb Pal explained when he first met Dorothy, she had such severe back and leg pain that her walking had significantly deteriorated.
"When she first came to see me with her daughter, she was in a wheelchair," he said.
On Dorothy's scan it became evident she had multiple levels of severe spinal stenosis, which is narrowing of the spaces where the nerves travel along the spine.
"Along with the severe narrowing of the nerves caused by wear and tear, the spine had slipped at several levels in a step ladder pattern causing a deformity and an instability of her spine," Mr Pal said.
Mr Pal explained that when you consider surgery for someone in this age group, where possible you try and avoid major complex procedures. "Unfortunately, in Dorothy's case, the problem was across four levels of her spine associated with a deformity, so any solution was not going to be simple. "In terms of surgery, I explained I would need to free the nerves in order to relieve the pressure and then stabilise the spine with screws and rods across the four involved levels. In addition, because of her age, Dorothy's bones were likely to be soft. To prevent the screws loosening, bone cement had to be used around the screws to improve their hold''.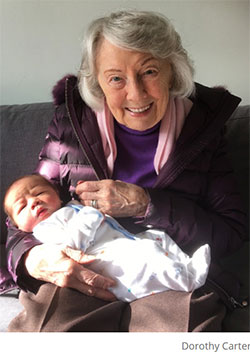 "The decision making for surgery was quite difficult. On one hand if not operated, her mobility would get worse and when someone of this age becomes bedbound, their quality of life drastically deteriorates. On the other hand, such surgery would have considerable risks. I had an open and honest discussion around the risks and benefits of surgery with Dorothy and her family" he said.
In Dorothy's case a couple of things helped.
"Although she was 90 when she came to see me, she looked 20 years younger. When she told me she had just recently been on a Mediterranean cruise, the moment I heard that, I knew she was a healthy and active person and that is how I made the decision to operate. Of course she then had to decide. If she had chosen not to have surgery, she would have remained in pain and her quality of life would have deteriorated," according to Mr Pal.
"Our spinal and neurosurgical team regularly performing complex procedures, and that, along with the hospital's leading equipment and modern operating theatres, gives patients like Dorothy confidence."
"In a period of this pandemic, people are scared to come to hospital but providers like Nuffield Health Leeds Hospital have inpatient green zones meaning it is strictly a Covid-19 free zone.
"So, my message is for young and old and those slightly wary of coming into hospital, especially in this pandemic, is that it is a safe environment and patients should not be in pain when a solution can often be offered''.
Matron Sharon Robinson, said: "In addition to being the only private hospital in the region that performs very complex spinal surgery, Nuffield Health Leeds Hospital is invested in high-quality care. We have a dedicated specialist spinal nurse seeing every patient supporting their overall post-operative care. We also have one of the largest national networks of physiotherapists outside the NHS, all registered with at least three years' experience."
As Dorothy's case proves, this was a real success story. Dorothy said: "I have no regrets and would certainly recommend the surgery to other healthy people of my age. I am planning three cruises next year, Covid-19 permitting. Two with my lifelong friend from schooldays, who is the same age as me and one on the Queen Mary to New York with my daughter and her husband. Life is really good for me."